5 DIY Tips for Organizing Your Kitchen
Who would want to prepare meals in a shabby, disorganized kitchen? It would be so hard to concentrate on cooking in a messed up kitchen. Having an uncluttered and organized kitchen would make the time spent there stress-free and enjoyable.
Here we are sharing 10 DIY tips with you to help you turn your kitchen into your dream kitchen! These ideas are not only budget-friendly but are also easy to implement. If you want to learn more, keep reading!
1. Wooden Crates
You can easily find crates in the market, or the chances are that you already have some lying around your home. These are perfect for storing fruits and vegetables. You can also use them in your pantry to sort miscellaneous items. Instead of spreading out your goods, you can place them neatly inside these boxes. These are also perfect to be used as spice racks. Split a rack, hang it on the wall and put all your spices and sauces in order.
2. Chalkboard Panel
A chalkboard is perfect for jotting down grocery items to be refilled, lunch or dinner menus or other to-do lists. You can add a chalkboard in your pantry or a cabinet door without painting a wall, drilling holes, or spending a lot of money. You can create this fun, mess-free chalkboard using the store-bought cardboard, wooden frame, and adhesive chalkboard liner paper. Cut the cardboard and chalkboard paper according to your required size. Paste the paper on the board and put it in the frame. Attach a piece of chalk with a pretty ribbon to the board to make sure there's always a piece of chalk on hand.
3. Magnetic Spice Rack
Are you tired of having to dig through your pile of spice jars to find the one you need? Instead, mount a magnetic spice rack on an empty wall, inside your cabinet or even on the side of your fridge. All you need is a sheet of stainless steel. Glue magnets to the tops of one piece canning lids, fill the jars with your favorite spices and your magnetic spice rack is ready!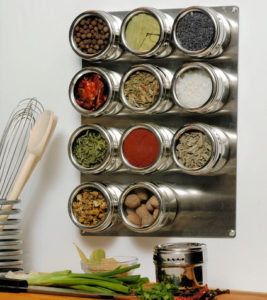 4. Storage Ladder
Want to use up the vertical space in your kitchen for storage? Simply lean a spare ladder against a kitchen wall. Not only your storage area will increase, but it will also add an artistic touch to your kitchen. Place your kitchen towels and napkins on it. Hang large S-hooks on the steps to stash your pots, pans, and home-grown planters.
5. Space Saving Rods
How annoying are the cluttered lids in the cabinet and trying to search the right lid for the pot while cooking? Use a curtain tension rod to organize your pot lids and save space. Hang it inside or next to a cabinet and arrange lids from smallest to largest. Add S-hooks on the rod to store your favorite mugs. When fitted in the cabinet beneath your sink, it can be used for sorting the cleaning and washing spray bottles as well.
The article is sponsored by www.Alrug.com.